Workshop Venue
SpiN 2019 will be held at Het Pand Onderbergen 1, 9000 Gent, Belgium. Registration will start at 08:30 with coffee and koffiekoeken and the talks will begin at 09:00.
The workshop will end at 17:00 on Friday, 11 January. Elobes will take place on Saturday, 12 January.
Registration Information
Registration (i.e., conference fee payment) opens on November 15th, but if you are sure to go, don't wait to book your hotel room. Reservations for invited speakers is handled centrally.
Walking Tour
You can have a short walking tour between poster session and before dinner on Thursday, from Het Pand to Bar Mirwaar. Here you can download the walking tour directions pdf file.
Getting to Ghent
Plane
Brussels Airport (BRU) serves many European destinations and has direct trains to Ghent. The trainstation can be found on Level -2 and you can get there using the escalator when exiting the arrivals gate toward the right.
You can buy tickets for the train either by using the machines in the nmbs station, or online in advance from the NMBS website. The station is called Brussels Airport-Zaventem and you will have to pay a "Diabolo" fee for traveling to the airport (included in your ticket price of ~€16). You are traveling to Ghent Sint-Pieters and your ticket covers all the following options:
The direct fast train (1h00, IC2842 does not stop between Brussels South and Ghent)
The direct slow stop-train train (1h30, IC3644 stops multiple times between Brussels South and Ghent)
Taking the first possible train to Brussels and changing in Brussels South to the direct train to Blankenberge (1h08, IC1543)
From Ghent Sint-Pieters you should exit the station toward Track 1 (notice that there is ongoing construction work in the station area, see map) and take a tram towards downtown (the walk is about 30 min, the tram 10-15 min). If you travel as a group, a taxi might be a faster and good option as well. With the tram, you can either take Line 1 departing from the left side of the station or Line 2 departing from the right side of the station. They were somehow unable to bring those lines closer together, and from experience it is not worthwhile trying to run to catch the other arriving tram when you are waiting at the other platform. Your best pick will be to have a look at the time-schedule using Google Maps. During the day, a tram of either line should arrive in about a 10 min interval. You can buy tickets at the gray ticketmachine on the tram platform (euro coins only), or use an SMS ticket by texting DL to 4884 (requires that you are roaming through a Belgian operator such as Proximus, BASE, Orange, Telenet, see details).
Line 1 toward Korenmarkt (number 2 on the map) get off at Korte Meer.
Line 2 toward Melle Leeuw (number 20 on the map) get off at Zonnestraat.
To get back to the station use the Zonnestraat stop where both tram 1 and 2 depart towards the station.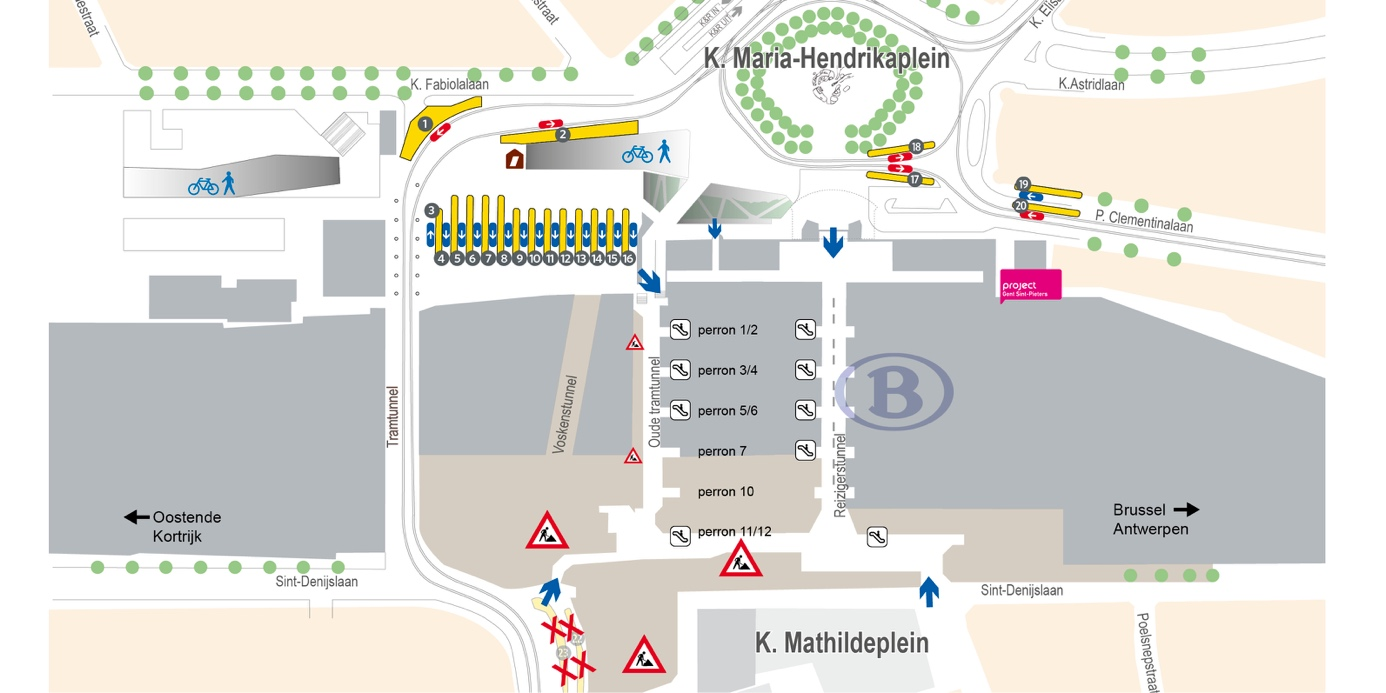 The walk from the tram stop to het Pand is very short.
Train
Belgium is well connected with high-speed train connections. From Paris, London, Frankfurt-Aachen you will arrive in Brussels South station. From there, you can take a direct train to Gent Sint-Pieters (30 min). From Rotterdam you can take the train to Antwerp and then take a local train to Gent Sint-Pieters (1 h). If Lille (Rijsel in Dutch) is more convenient, you can travel from there to Gent Sint-Pieters as well. Note that one the way back to Lille, they split the train in two and you should make sure you are in the part that travels to Lille (better ask to make sure before you get into the train).
Car
Driving in Belgium is a nightmare during rush hours so calculate an hour extra if Antwerp or Brussels are on your way. It will be cheapest to look for hotels with parking included, and otherwise the most nearby underground parking lots are "Ramen" and "Sint-Michiels". Streetparking is very expensive and goes by the hour, note that signs with "Bewonersparkeren" mean that the spots are reserved for residents.
Getting around Ghent
Once you have arrived downtown, you can get anywhere on foot. The only times you might need to take a tram is when you need to get to/from Gent Sint-Pieters station.
Accommodation
Below are just a few of the many accommodating options in Ghent. There are other options to be found on online booking sites. Air-bnb is also popular, and we have a few youth hostel options as well.
Conference dinner
We will be having our conference dinner at Bar Mirwaar (Burgstraat 103-45, 9000 Gent).
The Weather
Mid-January usually has temperatures between 5 and 10°C, with undershoots when it is clear and overshoots when it rains. It is usually not as windy higher up North, so umbrellas will work if you need one.
Things to See
Downtown is very historical, so there are plenty of old buildings (e.g. Gravensteen, Belfort) or churches (St Niklaas, St Baafs) to see. If you want to see the "Lam Gods" painting from Flemish painters Van Eyck, you can get your ticket at the St Baafs Cathedral.
Things to Eat
It is almost impossible to begin listing all the different cuisines and eateries. But I'll mention a couple which are downtown. There are several areas where there are plenty of restaurants close to each other such as Oudburg, near Vooruit.
Frituren
Fries! Sauce (Try andalouse)! Fried meat!
De Frietketel (Papegaaistraat 89), voted the best Belgian Frituur in 2017 so worth the walk, there are occasional 0.5 h-waiting lines if you're in rush hour.
Frituur De Papegaai (Annonciadenstraat 17), not as long a wait, nearby the Frietketel and good.
Frituur Tartaar (Heilige-Geeststraat 3).
De Gouden Saté (Sint-Pietersplein 28).
Frituur Vlasmarkt (Vlasmarkt 16).
Spaghetti (Our other national dish)
Other options
Proper Sit Down with local cuisine
Brasserie Pakhuis, not the best acoustics, see picture on website, but great food, might require a reservation.
Things to drink/eat for breakfast
There are a couple of good coffee/quick breakfast places in Gent, but please note that not all of them open before 9:00, so check in advance. Not all bakeries have coffee but some do, I have listed the ones I know. When in a bakery, have a "koffiekoek" which is a category of about 30+ types of sweet or buttery or cream-filled Danish/Wienerbrod/Viennoiserie. You can get what you like by pointing, not even the Belgians can get all the names right.
Café Labath (Oude Houtlei 1)
Moor&Moor (Jakobijnenstraat 7)
Take Five Coffeebar (Voldersstraat 10)
OR coffee (Sint-Pietersnieuwstraat 128)
Bakery Aernoudt (Recolettenlei 1)
Bakery Van Hecke (Iepenstraat 1)
Things to drink for the after-hours
Café Jan van Gent (Annonciadenstraat 1)
Hotsy Totsy (Hoogstraat 1, cool interior)
De Alchemist (Rekelingestraat 3, might be difficult to enter with more than 2-4 people as this place is very very small, but nice G&Ts and Ws and view is spectacular)
't Dreupelkot (Groentenmarkt 12, just for Jenever: a very strong local liquor you drink bottoms up using 5 cl glasses, not advisable to stay for more than half an hour)
Trollekelder (Sint-Jacobs 1, good selection of beers)
Vooruit (Sint-Pietersnieuwstraat, good for groups)
Lots of other good bars near Vlasmart, if you want to go clubbing afterwards, go to charlatan
Things to Hear
If you are staying for the weekend, there are plenty of concert/party options: